Call Forget Me Not Dolls to schedule your seminar dates.
Are you passionate about dolls and want to learn doll repair? Are you considering a career change or simply want to restore your own dolls? A seminar from Forget Me Not Dolls will provide you with the training you need to get started in professional doll restoration.
Whether you want to take a doll repair seminar to restore your own dolls or as a full time occupation, Forget Me Not Dolls will give you hands-on, step-by-step instructions for becoming a doll restoration artist. Doll repair and restoration is time and labor intensive, but is very rewarding. A variety of classes are available, or you can request a custom class with only the dolls that you are interested in.
Call 214-403-7077 or click here to learn more: Doll Repair Seminars
Museum Quality Doll Repair and Restoration
for
Vintage and Antique Dolls and Stuffed Animals

We do museum quality doll repair and restoration. Whether a childhood doll or an inherited heirloom, we restore dolls to their original factory beauty. We have many years of experience in restoring all types of dolls.
Please browse the before and after photos of dolls we have done, and if you still have questions, feel free to give us a call  and/or fill out the free doll repair quote with pictures and a description of your doll and receive a free estimate to restore your doll or dolls.
If you browse the before and after pictures on this website you will see we also specialize in authentic period costuming of the dolls if desired. It takes many years of study and experience to know how dolls were dressed in any given time period. We  take special care to be sure your doll is appropriately costumed if you wish to have that included with the restoration, or you may redress your own doll.
Forget Me Not Dolls provides:
Antique Doll Repair

Doll Restoration

Rebuild or replace doll parts

Stringing

Cleaning

Doll Clothes
Forget Me Not Dolls specializes in the repair, restoration and care of:
paper mache dolls

cloth dolls and teddy bears

hard plastic and vinyl dolls

stuffed animal restoration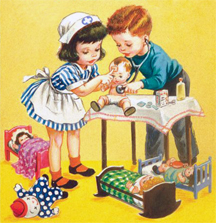 Professionally Made Doll Clothes
The Vintage Antique Style Doll Clothes are professionally made authentic period costumes for your dolls. Fabrics may be cotton or silk. Trims may be cotton, silk, rayon, or acetate.  There are no refunds on doll clothes or shoes so please make your selections carefully.
My Dolls Blog
dollhospital
Vintage Style CissyDoll Clothes Reflect The Materials and Styles of Her Era Vintage Style CissyDoll Clothes - Cissy doll dresses were made ...
dollhospital
Sewing Doll Clothes Using Tweezers for tiny pieces When sewing doll clothes, you can be dealing with very small pieces. For example, ...