Forget Me Not Dolls On Vacation
I am currently on vacation and products from my shop will be unavailable until after the new year 1/5/2024.
Thank you for your patience and I apologize for any inconvenience.
Beautiful doll clothes for vintage dolls.
Doll Clothes Orders – I try to keep most dresses in stock, but sometimes make dress and shoe orders as they come in. Please allow 4-5 days for your order to be completed and shipped.
eBay – I have doll-related items in my eBay store that are not listed here on my website. https://www.ebay.com/usr/forgetmenotdolls
Seminars and Doll Repairs – I am sorry, but I am not giving seminars or taking doll repairs at this time due to my husband's declining health.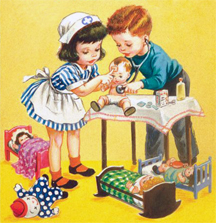 Professionally Made Doll Clothing
All the Vintage and Antique Style Doll Clothing here are professionally made, authentic period clothes for your dolls. Fabrics may be cotton or silk. Trims may be cotton, silk, rayon, or acetate.  There are no refunds on doll clothing or shoe orders unless I have made a mistake, so please make your selections carefully.
My Dolls Blog
dollhospital
Ideal Toni Doll Dresses Still in Demand More than half a century later Toni and her dresses are still popular Most of the little [...]
dollhospital
Vintage Style CissyDoll Clothes Reflect The Materials and Styles of Her Era Vintage Style CissyDoll Clothes - Cissy doll dresses were made [...]