Doll Seminar Class Comments
You can learn to Repair dolls as a career or as a hobby.
These ladies came to Oklahoma City with lots of basket case dolls to take a Doll Restoration Class and learned to repair their dolls. They worked really hard and did a great job in restoring their dolls. We put in more than 10 hours a day each day to complete everything. I thought I was a workaholic, but these ladies outdid me in working more hours than I usually do! Read their Doll Seminar Class Comments.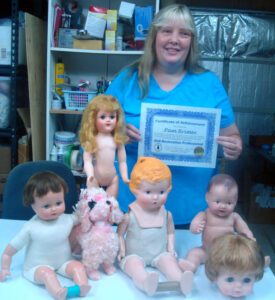 What a wonderful time we had at Rubie's doll restoration seminar. I arrived well read on the subject of composition doll restoration and thought I had an idea of what techniques and tools we would use, ( but no ) Miss Rubie blew me away with her way of restoring. She used techniques that I'm sure other doll doctors don't even know about. Rubie is a wonderful artist and does the best quality work that I have ever seen. She will show you in easy to understand steps how to accomplish her professional style of restoration.
The things you will learn will both amaze and inspire you. This talented lady put up with my deluge of questions all day every day for 10 days straight with no complaint. She stayed with us the whole time and shared everything possible and then some. I've taken many many seminars over the years and have never had a better teacher on any subject. If you are serious about learning from the best, Rubie is it. It was such an honor to have the opportunity to study under someone of this caliber. I TRULY enjoyed sharing the class with another student too. My dolls where different from hers so I learned what my dolls needed and hers as well.  After the seminar she is still helpful with advice too. Thank you Rubie. You're my Hero!!!!!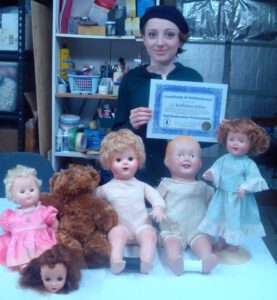 I had a great time at this seminar and I learned a LOT!  Rubie is an expert at everything to do with dolls & she did her best to cram all of it into our short ten days.  She made sure we had the knowledge and materials to fix composition & plastic dolls in all conditions, and also turned me on to other skills and possibilities, from working with a variety of epoxies to the basics of search engine optimization.
I had no experience with doll repair but left feeling prepared to do everything we had learned in class and experiment on my own.  If you are wanting to learn doll repair, as a career or a hobby, this seminar is the one to go to.