Doll Restoration Artist
A Measure of Time
I am a doll restoration artist. As an artist, I need time to think and consider options for each doll. Doll repair and restoration is a creative process. I don't just churn out fixed dolls. It takes time and lots of thoughtful contemplation to properly restore a doll.
Each doll is unique and presents its own problems. I am constantly researching methods and materials to use for restorations and that takes time too. My goal with each doll is to restore it to its original condition and to keep or enhance its value. My best restorations are never churned out quickly, rather they are better restored with time built in for me to mull during the restoration process. What works for one doll may not be what another doll needs.
It also takes time for the restoration. If a doll needs painted, then it may need the original paint removed; cracks filled and sanded; toes and fingers sculpted; or body parts remolded. Sanding, filling, painting, and waiting for each of those things to dry and cure before going on to the next step, takes lots of time.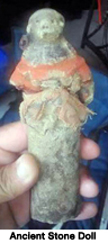 Over the centuries, dolls have been made from every imaginable material: wood, stone, bone, glass, cloth, wax, porcelain, metal, clay, composition, and finally plastics. Within each of those categories there are many different kinds of that material. Each material is unique and different kinds of restoration materials can be used with each one. The same holds true for doll's clothes, hair, eyes, and shoes.
A good doll restoration artist is a walking encyclopedia of information, not just about dolls, but also about their construction, and all the materials they are made of. I am constantly researching dolls; how they are made; history of dolls; materials used to make dolls; modern materials made for conservation; how to make wigs, shoes, and eyes; and anything doll related.
The length of time your doll stays at the doll hospital has many factors as above, but there is also the standing in line waiting for a turn. I receive many doll requests and try to work on dolls in the same order as they come in. So each doll is placed on a work order list so I know where they are in line.
Occasionally I will do a rush order, but most of the time dolls are worked on in the order in which they arrive. Sometimes I group dolls into the same type, as they require some of the same methods. So, composition dolls need stripped, filled, and sanded to start with. I like to do those in groups of about 10 at a time. So, I will sometimes start on a doll out of order, just to group it with similar dolls, but in the long run that doll will be finished when it is due, as I will put it back in its holding drawer to finish the final painting and stringing, or body making when it is time.