Seminars – 2023 seminars are available from March through October. Schedule yours today. 🙂
Doll Clothes Orders – I try to keep most dresses in stock, but sometimes make dress and shoe orders as they come in. Please allow 3-4 days for your order to be completed and shipped.
Repairs – I am no longer taking doll repairs.
Call Forget Me Not Dolls to schedule your seminar dates.
Are you passionate about dolls and want to learn doll repair? Are you considering a career change or simply want to restore your own dolls? A seminar from Forget Me Not Dolls will provide you with the training you need to get started in professional doll restoration.
Whether you want to take a doll repair seminar to restore your own dolls or as a full time occupation, Forget Me Not Dolls will give you hands-on, step-by-step instructions for becoming a doll restoration artist. Doll repair and restoration is time and labor intensive, but is very rewarding. A variety of classes are available, or you can request a custom class with only the dolls that you are interested in.
Call 214-403-7077 or click here to learn more: Doll Repair Seminars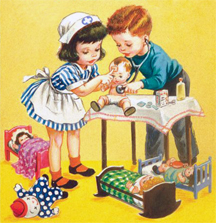 Professionally Made Doll Clothing
These Vintage and Antique Style Doll Clothes are professionally made authentic period clothes for your dolls. Fabrics may be cotton or silk. Trims may be cotton, silk, rayon, or acetate.  There are no refunds on doll clothing or shoes so please make your selections carefully.
My Dolls Blog
dollhospital
Ideal Toni Doll Dresses Still in Demand More than half a century later Toni and her dresses are still popular Most of the little ...
dollhospital
Vintage Style CissyDoll Clothes Reflect The Materials and Styles of Her Era Vintage Style CissyDoll Clothes - Cissy doll dresses were made ...