Description
CissyDoll Rhinestone SideDrape PinkGown
This beautiful CissyDoll Rhinestone SideDrape PinkGown is a stunning evening gown with rhinestone accents. Reproduced in the likeness of the original, this gown is created in crisp taffeta and fully lined in cotton organdy. The gown features a long form-fitting bodice attached to a full trained skirt topped with a long side draped sash. Cissy looks ready for the red carpet in this rhinestone draped dress.
This gown originally came in many colors in 1956 and is so reminiscent of this golden age of couture fashion. The dress, pictured in "The Cissy Files" book on page 33, came in many different colors.
The hooped half slip adds volume to the gown and is a little longer in the back to accommodate the train on the dress. This off-white taffeta slip has an elastic waist that closes with two snaps in the back. and a deep crinoline ruffle along the lower edge. Vintage-looking silk millinery roses accent the side of the slip. Don't forget panties and nylons to complete her outfit.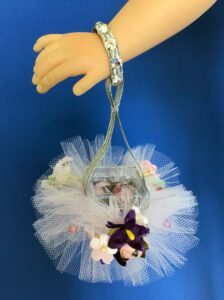 This is a replica tulle purse for your vintage Madame Alexander Cissy doll. The tulle purse originally sold as part of the 1956 #2036 long torso gown with diagonal side drape sash. Collectors today refer to this outfit as the Cissy rhinestone side drape gown. This purse meticulously constructed to factually replicate the original. It is made with gathered tulle that is attached to the lucite purse box and is adorned with delicate flowers and metallic brads. Inside the lucite purse is a tiny arrangement of flowers. The purse's strap securely dangles from the attached matching clear rhinestone bracelet which gives the entire piece a very elegant and delicate look.  You see the tulle purse here in pink. It is also available in blue, peach, red, and rose. You may order this purse from Anna's Dolls.